Do you want to develop a Website? There are several platforms to start with. But among all those, WordPress is the best option. This article helps you to know how to install WordPress? WordPress is the most popular CMS which has millions of users worldwide. And the reason behind its popularity is, it is easy to start a WordPress blog.
If you want to go with WordPress, you need to install it first. Some of you might be getting confused about its installation process. But let me clarify you, it is very easy to deal with such than even can beginners can do it well. You can install a WordPress within a few minutes, you just need to be focused and keep patience.
Before starting its installation process, let me introduce you to some of its advantages.
Why start with WordPress?
powers over 33% of all websites on the internet
WordPress web hosting companies allow you to install WordPress with just a few clicks
Installation takes less than five minutes to complete
Easy to use platform for creating any types of website
In this article, we will discuss different processes through which you can install WordPress. Most of those are beginners friendly. If you follow each step perfectly, I am sure you will install a WordPress within a few minutes and without getting any issue. The main aim of creating this article is to provide every necessary detail for a WordPress installation. So let's get started:
How to Install WordPress using web hosting?
1. With Bluehost
Bluehost is an amazing hosting provider who is providing its services worldwide. It is an officially recommended WordPress hosting provider. With Bluehost, you can install WordPress very easily and very quickly. Once you sign up through Bluehost, it will automatically install WordPress on your domain.. So go through the following steps:
Login to your Bluehost account
Go through 'My Sites' tab
Click on 'Login to WordPress' button
Click on the 'Create Site' button under 'My Sites' tab
Except for their 'Basic' plan, Bluehost also allows you to install WordPress on unlimited sites with all their hosting plans
A WordPress installation wizard will be launched
Provide a site title and optionally a tagline
Click on the 'Next' button to continue
In the next step, the system will be asked you to select your domain name and path for your website. So need to select your domain name before starting this step. But you are always allowed to purchase and add new domain names to your account by visiting the 'Domains' page from the hosting dashboard.
So now you have your domain name, go for the following steps:
Select your domain name
Leave the directory path blank and let Bluehost choose it for you
You will get an option for a few essential plugins that you can install
Click on the 'Next' button to continue
After a while, you will get a success message with your WordPress site details
Congratulation, you have installed your WordPress through Bluehost. Now you can enter your new site's admin area. Isn't it an easier process?
2. With GoDaddy
First of all, you need to create an account. So go for any of the available plans and create an account.
GoDaddy WordPress Plans
Select your required products and Add to your Cart
Select term length
Choose your domain name
With your domain name, order your plans
Follow the checkout process
With this, you will get your own GoDaddy account
Log in to your GoDaddy account
Get your WordPress hosting account
Click on the Manage option
Install WordPress and customize your website
Install WordPress from cPanel
3. With Siteground
Another stunning hosting provider is SiteGround. With its custom Area, you can easily install a WordPress. Now follow the following steps to install WordPress:
Log in to the Customer Area
Select "Start a new website" option
Click on the WordPress icon
Provide the login information for your new site
Click the confirm button
Choose whether you want to add enhancements
Click the "Complete Setup" button
Finally, you will install WordPress through Siteground successfully.
4. With DreamHost
DreamHost comes with a one-click installation method. Now, even beginners with basic knowledge can handle it. Let get started:
Go to your DreamHost control panel
Navigate to Domains
Go through the software list and select WordPress
Fill in the fields
Provide the address to install WordPress
Database fields will be filled on the automatic setting
Click on "Install it for me now!" button
You can install your WordPress via DreamHost. Like this, there are several hosting providers with which you can install WordPress. So go for the one which you get easier for you.
How to Install WordPress from cPanel?
Cpanel is one of the popular software to install WordPress. It is also used by many web hosting companies as it provides a simple web-based interface. Here, you will get access to several useful utilities like auto-installer scripts. These auto-installers automate the full WordPress install process. The best part about this is, with your single click, the auto-installer installs WordPress for you.
Some of the popular auto-installers are:
Let's see how these auto-installers are useful for installing WordPress.
1. Using Softaculous

Softaculous is an amazing auto-installer script that allows you to install WordPress very easily. Not only WordPress but you are allowed to install several other web applications with just a few clicks. Most of the popular web hosting companies like SiteGround and InMotion prefer this auto-installer in their control panel.
So let see how you can install WordPress for your domain via Softaculous:
Login to your cPanel account
Go to auto-installer section and click on Softaculous or WordPress installer icon
Now Softaculous auto-installer will be launch for WordPress
Click on the Install tab to continue
After this step, you will be asked for the address to install WordPress. Once you select your domain, go to next page and change the setting. So following steps:
Add title and description to your WordPress site
Next, choose an admin username, password, and email address
(But Softaculous will fill in the username and password fields automatically with a non-dictionary word. You can change it to recall it easily)
Always enter correct email address since you will get notifications and password reset link there
Click on the install button to run the installer
Now your work is done here, Softaculous will run the installer. Keep remember that you should not close the window until the progress bar reaches 100% otherwise, this may affect your WordPress installation. Once WordPress is installed, you will get a success message along with a link for your website and to your WordPress admin area.
2. Using QuickInstall

Likewise, QuickInstall is another amazing auto-installer that installs WordPress very easily. Most of the popular web hosting companies like HostGator and others prefer it. So follow the given below steps to install WordPress through QuickInstall:
login to your hosting account's cPanel dashboard
Click on the QuickInstall icon scrolling down the page
with your single click, you will get an option to install web applications
click on WordPress to launch the WordPress installer
you will get an option to select your domain name from the drop-down menu
Click on the Next button to continue
enter WordPress details like username, email address, and site title
After filling in all the information, click on the Install button.
In this way, you can install WordPress with the help of QuickInstall. After the installation, you will get a success message with your login details like username and password.
3. Using Fantastico

Last but not least, Fantastico is outstanding and easy to use auto-installer. It is also used by several popular hosting providers since it provides an easier way to quickly install WordPress.
So let get started with its steps to install WordPress:
Like previous one login to your cPanel dashboard
scroll down to software and services section, and click on the Fantastico icon
launch the auto-installer script
go to the main Fantastico screen
select WordPress from the list of web applications
you will get an overview of the application
Click on 'Click here to install WordPress' button to continue
After this, you will be asked for installation settings for which you need to choose the domain. In case, if you want to install WordPress in a sub-directory then enter the sub-directory name in the same field below. Provide admin user account information to the Administrator Details section like username, password, and email address.
Now finally click on the Submit button to continue. On your click, Fantastico will start to install WordPress for you. Your installation will be completed with a success message.
How to Manually Install WordPress Using FTP?
You can also install WordPress manually through FTP. Before starting, make sure you have your domain name and web hosting, provider. We have divided this process into a few parts. Let's see how a user can install WordPress through this process.
Step 1.Preparation of a Blank Database
Log into your Hosting Dashboard
Click the MySQL Management on the left panel
Add a MySQL database with a plus sign
Type your database name
Click the Next button
Type your username and password
Click the Save button.
Step 2.Download and Upload the WordPress files
Get the WordPress from WordPress.org
Unzip the wordpress.zip
Now connect to your hosting account with FTP Client
After this upload the unzipped WordPress files to the directory
Step 3.Configure the wp-config.php file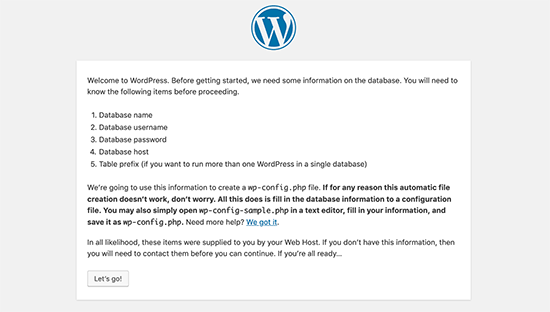 Access your File Manager
Click the File Manager icon
Go to the left navigation menu and click public_html
Get the folder containing the WordPress installation and click on it
Again at right side locate the wp-config-sample.php file
You will see the 3-dotted icon, click on that and select Rename
Change the name of the file to wp-config.php
Save the change
Again click on the 3-dotted icon of the wp-config.php file and select Edit
Click Save to save the changes
Step 4.Initiate the WordPress Installation Script
Open a new browser window
Go to the installation page
You will find the following URLs as per your provided setting
Now you will see a welcome page below where you will be asked for Site Name, Username, Password, Email address
Select whether or not to have the search engines index the site
Click Install Now,
Finally, you are at the end where you will get a message that WordPress has been successfully installed.
How to install WordPress on your Computer?
You can install WordPress on your computer using the XAMPP server. So you need to install XAMPP and WordPress zip file.
Part 1: Install XAMPP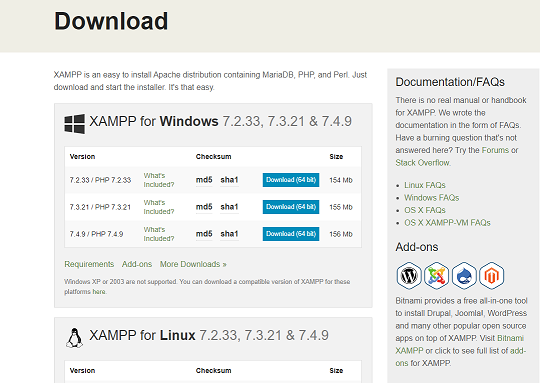 Download and install XAMPP
Run the file and launch the XAMPP installer
Click next to continue
On the next screen, select MySQL and PHPMyAdmin to install
Again click on Next button
On the next screen, you will be asked to select a folder to install XAMPP
Finally, run the install
Once the installation process is done, launch the control panel
Part 2: Start the modules

Launch the control panel
Run two modules: Apache and MYSQL
Open your browser and browse for http://localhost/
Part 3: Add the WordPress files
Go to wordpress.org
Download latest version of WordPress
Open your XAMPP folder
Search for htdocs
Create a folder in the htdocs
Extract the WordPress file on that new folder
Part 4: Create a Database
Launch PHPMyAdmin from XAMPP control panel
Click on the database on the PHPMyAdmin page
Enter your database name
Click on create button
Visit your test site
You will see the normal WordPress installer
Apply your details like database name, user name, and password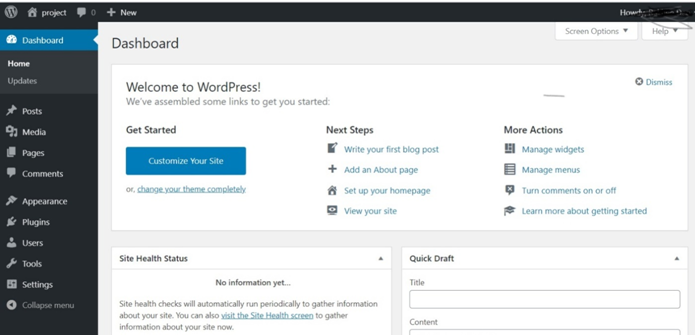 Now after submitting the details you are ready with your WordPress on your localhost.
Conclusion
Well, these are all about the methods and steps with which you can install WordPress for your domain. We have mentioned different methods, so whether you are beginners or an expert, you all get this article useful to you.
If you are a beginner, we suggest you go through auto-installer. It is easy, fast, and no different than installing WordPress yourself. You can also prefer the hosting that provides pre-installed WordPress. But still, you are free to choose any of the above methods. Just keep your mind focused, I am sure you will get the best result.
Keep visiting our site for more interesting and useful articles.